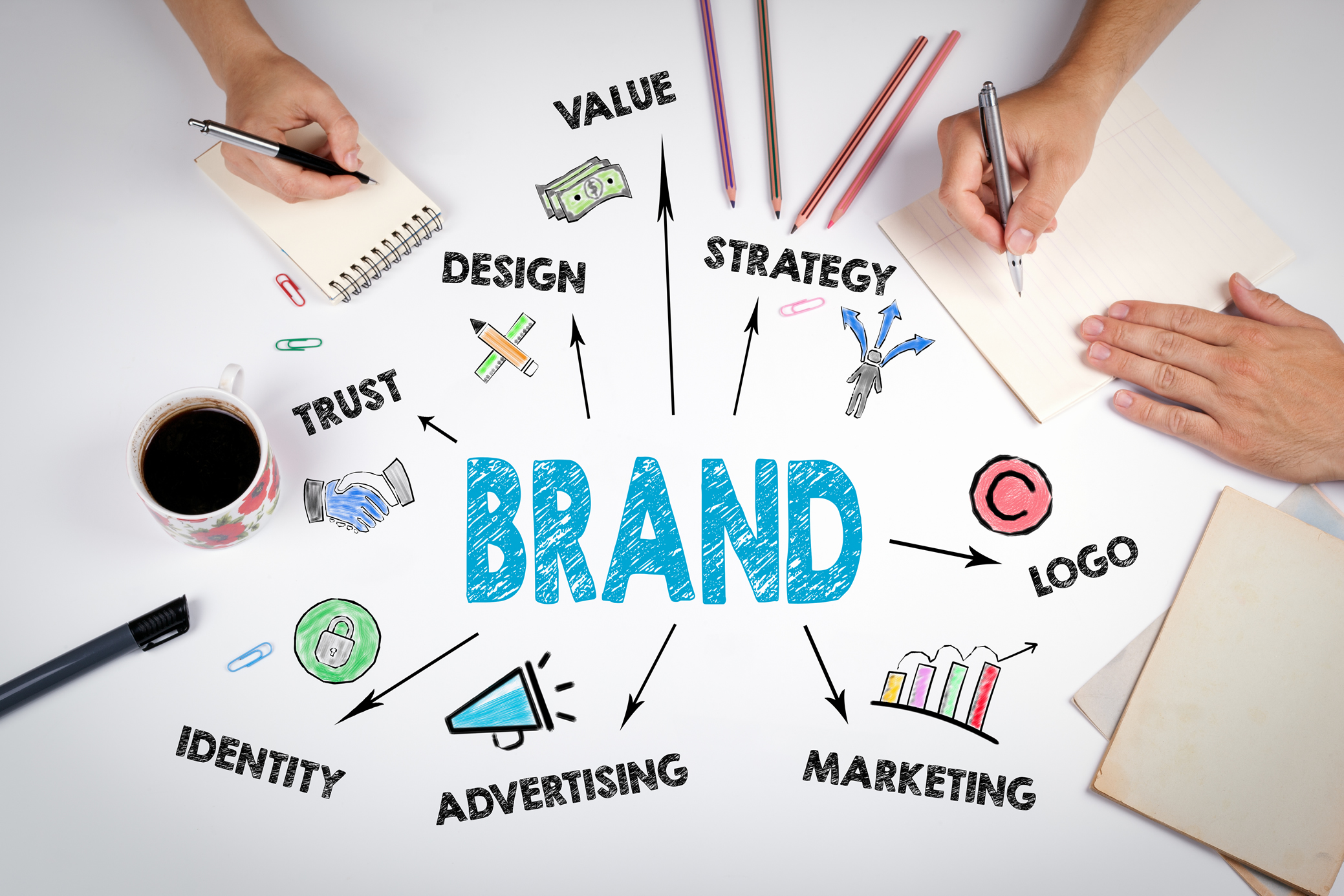 Branding is vital as it not only creates a distinctive impression on customers, but it also informs your consumers and clients on what to expect from your business. It is a method of separating your business from the competitors and defining what you deliver and why it makes you the better option. Your brand should reflect an accurate picture of who you are as a company and how you want to be recognised.
A brand can be developed in a variety of ways, including advertising, service quality, social and corporate responsibility, reputation, and graphics. All of these components (and plenty more) come together to form one distinct and eye-catching profile.
Everything revolves around your brand. Trends are continuously altering and evolving, which means you could end yourself falling behind. Many business owners tend to continue with the same branding established since the beginning because it feels familiar, and it may have contributed for some of the success.  However, nothing lasts forever. Maintaining the freshness in your branding should always be a priority for your brand.
The relation between marketing and branding
Because branding is important to your marketing plan, it must come first. Even if you are a start-up, it is critical to identify who you are as a brand prior to developing specific marketing techniques, tools, strategies, and tactics. Your brand is what will maintain your customers coming back for more, it is the foundation upon which you will build customer loyalty.
There is also a talk on rebranding to revitalise your business to grow with the trends and market. One important reason to prioritise rebranding is that it is closely related to your marketing efforts. You are wasting your marketing investment if you ignore the need of a fresh approach.
Your reputation and able to attain new audiences are based on having a recognizable brand. As a result, keeping your brand fresh means you can get the most out of your marketing activities. This mainly applies to businesses that have been running for a long and changes over the years to adapt with the ever-changing market.
While marketing strategies will adapt to response to current industry and social trends, branding should mainly remain consistent with a fresh approach to evolve with the times. Even if you make changes to your brand, it will almost always be in relation to your growth or additional services offered—it will almost never be a revamp of your essential principles, mission, or values.
Why is strong branding important?
Businesses who do not have a strong, current-day brand, run the risk of being left behind and simply forgotten. It can stifle your progress and prevent you from reaching new audiences. In the long run, this can hinder your firm, leaving you to regret squandered opportunities. Trends and preferences can shift in the snap of a finger, and you might get swept away without ever realising it. As a result, strong branding is vital.
How Do You Build Your Brand?
Building your brand's image is a process that takes time. First, you need to determine who your targeted market is and how to best optimise your brand to cater to them. This demographic can change quickly, which requires a reaction. You must be meticulous in determining the specific behaviours of your target audience. Statistics should be used to figure out how your target population thinks and acts. You can then begin to appeal to their preferences and lifestyle.
What role does brand image play in marketing?
Brand image is an important factor in how people perceive your company. In today's world, where everyone is competing for consumers' attention, you only have one shot to impress your target market.
If your brand is not strong enough, your sales can struggle, and you will fall behind. By staying current and adapting with the times, you can put your company in the best possible position to reap the most benefits from marketing initiatives and stay one step ahead of the competition.
Because of the total impact it has on your organisation, branding is vitally vital to a corporation. Branding can change how people perceive your brand, it can drive new business, and increase brand value – but it can also do the opposite if done wrongly or not at all.